Here we are, smack-dab in the middle of 2Q earnings season, and the indexes have been making new all-time highs like they're going out of style.
Technology is on fire, and the tech dudes (think: Amazon, Alphabet, Facebook, Microsoft and Netflix) that represent the "masters of the universe" are seemingly unstoppable.
Maybe, maybe not. Before we sit too long with our feet propped up on our desk and light cigars with $100 bills while we sip champagne, let's remember markets move in cycles . . . up and down.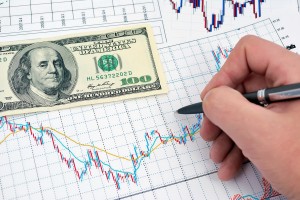 Indeed, as an investor, one of the most valuable tools you can have in your knowledge tool box is the ability to spot potential market tops.
Why? The answer is obvious. You want to keep your profits. You don't want to give them back as so many investors do in market downturns.
Are Institutional Traders Selling the QQQ?
To keep my portfolio strong, once a week I take a few minutes to move through a series of steps, or actions. These steps ensure my money keeps growing, and it also ensures my peace of mind. You'll see more on these vital steps below.
One of the steps I am taking now is to evaluate a daily chart of the PowerShares QQQ. This ETF follows the NASDAQ 100 Index and is where the powerful momentum stocks discussed above, reside.
PowerShares QQQ ETF – Daily Chart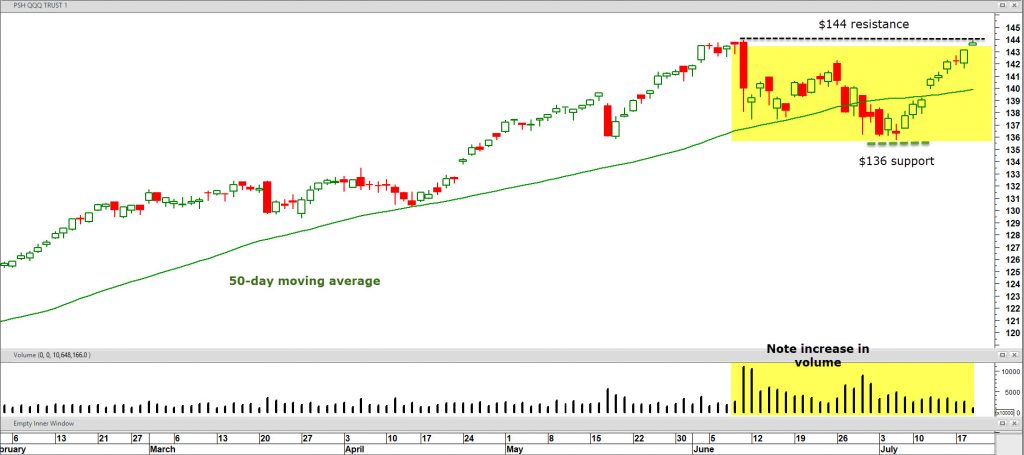 Chart courtesy of MetaStock
If you look toward the left and middle portions of the QQQ price chart, you'll notice how the index rose in an orderly uptrend, moving serenely up its 50-day moving average, from February to June. During its upswings, it cheerfully made a series of new all-time highs. Easy peasy.
But then, the party abruptly ended. Starting the second week in June, you can see the signs of institutional selling, as volume spikes shot up and price grew volatile.
The long red candles created 1) on high volume, and 2) closing on their lows, indicate that many institutional traders (who trade millions of shares) were selling.
As I captured this chart on Wednesday, July 19, the QQQ was trading at $144, after rallying back from its recent fall to $136. Still, the tech index ran up on more modest volume as compared to its expanded volume on its recent moves down.
Special Offers to Weiss Educational Readers
In the past four weeks, the market has soared into nosebleed territory.
Still, as active investors, we know that when the market rips high and fast, it usually meets up with profit-taking—at least in the short-term.
Whatever the outcome … are you ready to profit from it? Do you know how to grab opportunities from up and down markets?
Here's the good news: Toni can show you how to do just that … and you can get big savings at the same time!
Let us show you how to improve your trading and investing skills … tighten up your entry and exit strategies … get into the best sectors … and use our personal trading and investing plan that can help you gain more profits immediately.
We're giving Weiss customers our exciting flagship training, Seven Steps to Successful Trading, for this week only … at a massive 60% discount. Click here to find out more.
But don't delay. This deep discount is for this week only!
The Bottom Line
My evaluation: When index ETFs (or stocks) move in orderly uptrends for six or more months, they invariably morph into periods of volatility. The profit-taking bears duke it out with the "this index is going higher forever" bulls, and these battles result in wide price swings.
When I see this pattern—and when I see it accompanied by tell-tale signs of long red candles formed on high volume forms–I get cautious.
I may take selected profits off the table
I start looking for new opportunities with more potential upside.
In the coming weeks, as we move through earnings season, I will keep an eye on the PowerShares QQQ to see if it can climb above the $144 resistance line and remain above it. If it can . . . that's good, as bull markets are more enjoyable than bear markets.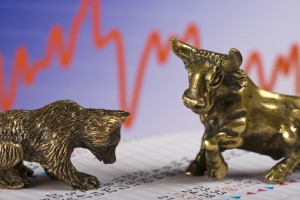 But . . . if the QQQs cannot continue their uptrend in coming weeks, then the simple step we've taken to spot a potential downturn will help to keep our portfolios safe.
If you'd like to discover more simple steps that will minimize your losses and maximize your market gains, please check out my webinar "Seven Steps to Successful Trading."
Until the next time, keep green on your screen!
Toni Turner
Toni Turner is the President of TrendStar Group, LLC, is an accomplished technical analyst as well as a popular educator and sought-after speaker in the financial arena.
She is also the author of best-selling books: A Beginner's Guide to Short-Term Trading, Short-Term Trading in the New Stock Market and Invest to Win: Earn and Keep Profits Bull and Bear Markets With the GainsMaster Approach, co-authored with Gordon Scott, CMT.